Movie Magic on Grand Traverse Bay, free for everyone. The biggest screen, the biggest stars, the biggest sound—nothing is better than watching some of Hollywood's most iconic, awe-inspiring, and beloved films with friends and family on a 65-foot screen by the water. Come early for music, entertainment, and interactive themed photo booths, all FREE, beginning nightly at 8 pm. Grab a blanket or some chairs and make a date for an enchanting evening at our outdoor cinema under the stars.
Note: Blankets, chairs, and coolers are all welcome at Open Space screenings, but please leave the alcohol and dogs at home. 
All 2016 Open Space Films Written and/or Directed by Women.
---
TUESDAY AT DUSK (Approx. 9:45 pm)
Pitch Perfect
2012 | USA | PG-13 | 112 min.
Directed by Jason Moore 
If you think a cappella isn't cool, or you think girls can't rock, then you best a-ca-believe it and come experience the sheer a-ca-awesomeness that is "Pitch Perfect." Going deep inside the cutthroat world of competitive collegiate a cappella, screenwriter Kay Cannon brings us the story of the Barden Bellas, a ragtag team of misfits, outcasts, and overachievers who come together to find their unique voice in their quest for a national title. As silly as it is smart, with a goofy humor and unabashed sense of fun that's all its own, this is quite possibly the most gloriously nerdy, snarky, and hilarious story of sisterhood every put on the screen—and we're being serious. Dixie Chicks serious. So start practicing your horizontal running, grab some "Cups" (but leave the sock puppets behind), and prepare to sing along with your favorite lady jams, recite your favorite lines, and get pitch-slapped.
---
WEDNESDAY AT DUSK (Approx. 9:45 pm)
Wayne's World
1992 | USA | PG-13 | 94 min.
Directed by Penelope Spheeris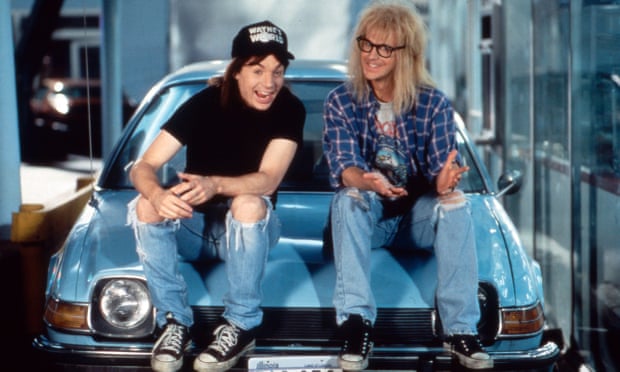 Wayne. Garth. "Bohemian Rhapsody." Rocking out to Queen's gleeful headbanging centerpiece—one of the cinema's most excellent musical moments—with the best two dudes Aurora, Illinois ever produced, is reason enough to come party on with us on Wednesday night. Mike Myers and Dana Carvey have never been more lovable and hilarious than in this suburban odyssey about two metal-obsessed, babe-loving, basement-dwelling twentysomethings on a mission to save their public-access show from a slimy executive—AND get the girl. The very best "Saturday Night Live" skit to make its way to the big screen is so exuberant, so quotable, so schweet, we're almost not worthy of this gift from the comedy gods. You'll laugh, you'll cry, you'll be at the Open Space.
---
THURSDAY AT DUSK (Approx. 9:45 pm)
Adam's Rib
1949 | USA | NR | 101 min.
Directed by George Cukor

They just don't make smart romantic comedies like this anymore—but maybe they would if more women wrote them, as Oscar-winner Ruth Gordon (Maude in "Harold & Maude") did in 1949. Sparkling, sophisticated, and ineffably entertaining, this ultimate battle-of-the-sexes tale is told with a fiery feminist savvy that was decades ahead of its time. A prosecutor (Spencer Tracy) finds himself on the opposite side of the aisle from his defense lawyer wife (Katharine Hepburn) when she takes on a client charged for the attempted murder of her philandering husband. The court-room conflict soon becomes a source of marital discord as the headline-making case turns into a battleground for sexual equality. Hostilities arise, chauvinism is exposed, barbs are traded, and zingers crackle in this razor-sharp script that created this very best of Tracy-Hepburn vehicles. The only thing we'd object to? You missing it.
---
PEOPLE'S CHOICE WINNER
FRIDAY AT DUSK (Approx. 9:45 pm)
Shrek
2001 | USA | PG | 90 min.
Directed by Vicky Jenson, Andrew Adamson

A minunderstood ogre (Mike Myers) reluctantly agrees to rescue a princess in order to free himself from the onslaught of talking pigs, wayward wooden boys, and typhlotic rodents foisted on him by a Lord with a very small castle. But he gets more than he bargained for when a wisecracking donkey (Eddie Murphey) dogs him all the way to Duloc, and the princess (Cameron Diaz) micromanages her rescue. Add a curse, a dragon, and a band of merry men, and you get a fantastical fractured fairytale with enough wit and heart to fill a swamp. This is a movie with layers, like an onion, and one that speaks to both children and adults with its wickedly sly, adorable infectious, and charmingly irreverent spirit. It made Scottish accents cool, it made Smash Mouth relevant, and it'll make you a believer. The first film to win the Oscar for Best Animated Picture can now add TCFF People's Choice Winner to its many accolades!
---
SATURDAY AT DUSK (Approx. 9:45 pm)
Jurassic World
2015 | USA | PG-13 | 124 min.
Directed by Colin Trevorrow

After the soft opening of Jurassic Park went terribly awry, life, uh… found a way—and the park on Isla Nublar is now open. Kids ride triceratopses, kayak with brontosauri, and have the daylights scared out of them by prehistoric sea monster. It's a dream come true. But after park scientists once again mess with the natural order (will they never learn?) and a and create a genetically modified human-munching-dinosaur-crunching terror, it's up to an animal behaviorist (Chris Pratt, doing his best Indiana Jones) and the park ops manager (Bryce Dallas Howard, doing everything Pratt does in heels) to rein it in. Undeniably thrilling and suspenseful, this sleek blockbuster written by Amanda Silver and Rick Jaffa combines monster mayhem with nostalgic wonder—and, in true Spielbergian fashion, the real star attraction isn't the dinosaurs, but the way the movie ignites our collective imagination.
---
SUNDAY AT DUSK (Approx. 9:45 pm)
Frozen
2013 | USA | PG | 102 min.
Directed by Jennifer Lee and Chris Buck
Is it the incredible songs, the stunning animation, the sparkling spirit, the revolutionary girl power message, or all of the above that made this Oscar-winning wonder the highest-grossing animated film of all time? Whatever the case may be, we won't let it go, and we know you won't either. Only people with frozen hearts could be immune to the immense charm of this Disney powerhouse. The wickedly talented Idina Menzel and TCFF favorite and Michigan-native Kristen Bell star in an enchanting fairytale with some delightfully modern twists about two brace princesses, a sun-loving snowman, and a guy with a thing about reindeer who must work together to save their kingdom from an eternal winter (as hard as such a thing might be for Traverse Citians to imagine). Before the show, join us as we do what frozen things do in summer. It'll definite be a night worth melting for.